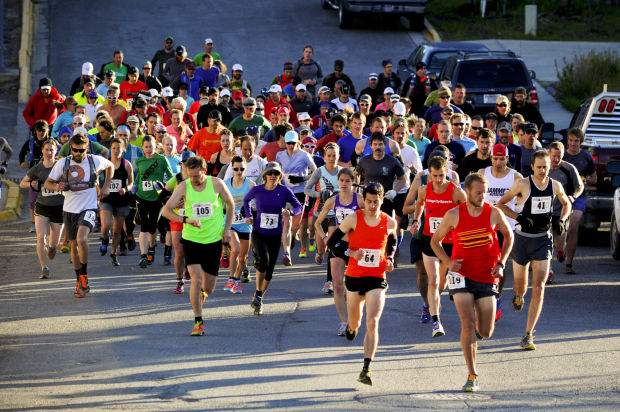 The 2014 Don't Fence Me In 30K off to a fast start - Credit: Thom Bridge/Helena Independent Record
Here at Montana Trail Crew, it's easy to get excited about the
Don't Fence Me In Trail Run
taking place this Saturday. There is a lot to love. First and foremost, it's put on by Prickly Pear Land Trust, an organization "committed to the belief that open space is essential to the well-being of all communities. Spacious views, abundant wildlife, and recreational opportunities renew and revitalize our spirits." We couldn't agree more! And when you have a land trust that works hand-in-hand with the local running community, you're guaranteed great trails and a sense of community involvement that's unmatched.

Prickly Pear Land Trust also knows how to put on a great event. This year, in conjunction with Primitive Mechanix and the Helena Ultra Runners League (HURL), DFMI weekend includes a screening of the Trails in Motion Film Festival on Friday night. Then comes race day, which features the nationally competitive 30K as part of the La Sportiva Mountain Cup, a challenging 12K, and a fun trail 5K. DFMI even strives to make it a family event with free race registration for kids, a canine category, and an open space fair held in conjunction with the running events. Finally, to top it all off, this year marks the inaugural DFMI post-race celebration hosted by Blackfoot River Brewing where they'll have an assortment of giveaways and be serving up the limited edition "E-Trail" Pale Ale
that marks a community partnership directly benefiting the land trust.
Finally, and most importantly, we love a great race. Year after year, the DFMI draws a talented field to test their skills on the climbs and descents of Helena's South Hills single track on a 30K course sporting some 4,000+ feet of elevation gain! A quick glance at the all-time best who've run there reveals a Western States 100 Champ, a JFK 50 Champ, UTMB podium finishers, USATF Trail Champions, US Mountain Running Team Members, and so on. For trail running fans who want to experience a great event, today (Wednesday 5/6) is the last day to get signed up for the 30K. The other events offer race day registration.
Helena Ridge Running, DFMI 30K Map - Credit: Prickly Pear Land Trust
The trail running scene in Montana has been quiet this spring, but all that is about to change. The DFMI kicks off a flurry of trail running activity over the coming months, with trail races taking place nearly every single weekend. So keep in touch with MTC and we'll be there every step of the way.
Here are some of the athletes (as of May 4) who'll be contending for their place on the podium. There promises to be several more top entrants so we'll be updating accordingly and if you know of anyone we missed who should be included on this list send us an email (
admin@montanatrailcrew.com
)
Maria Dalzot… Bellingham, WA… 2nd at 2014 DFMI, 2014 U.S. Mountain Running team member, 2011 North American Mountain Running Champion, podium finishes at several U.S. Trail Championships
Anya Gue
… Missoula, MT… 2nd at 2013 DFMI, 12th at 2014 Rut 50K, 5th at 2013 Rut 50K, 2nd at 2014 Bighorn 50m, 1st at 2011 Bighorn 50K.
Emily Kipp
… Missoula, MT… 8th at 2013 Rut 50K, 6th at 2013 DFMI, former Snow Joke champ.
Emily Lamson
… Whitefish, MT… 2nd at 2014 Scout Mountain 100K, Wins at 2013 Tahoe Rim 100, 2013 Pocatello 50K, 2012 Wasatch Front 100, and 2011 Bighorn 100.
Kaitlin Macdonald
… Bozeman, MT… 11th at 2014 Rut 50K, 2nd at 2013 Rut 50K, 2013 Bridger Ridge Run champ.
Bret Ferrier
… Ogden, UT…7th at 2014 DFMI, Winner of 2014 La Sportiva Hillbilly Half.
Henry Reich
… Missoula, MT… former collegiate track and XC runner, Nordic ski racer, 4th at 2015 Snow Joke.
Jeremy Wolf
… Missoula, MT… 3rd at 2013 DFMI
J
immy Grant
…
Missoula, MT… 5th at 2014 DFMI,
Jesse Zentz
… Helena, MT... 3rd at 2015 Snow Joke, Winner of 2014 Elkhorn 23K, 8th at 2014 DFMI
Jeff Rome
… Missoula, MT... Winner of 2014 and 2015 Freezer Burn and 2014 Standhope 25K, 3rd at 2014 Old Gabe 50K, 3 at 2013 Bridger Ridge Run
Tim Whiton
… Belgrade, MT… Winner of 2015 Expedition 12K, Nordic ski racer.
Matthew Kempton
, Denver, CO. Runner-up at 2 La Sportiva Cup races this year, winner of 2014 Vail Hill Climb, currently second in La Sportiva Mountain Cup standings.