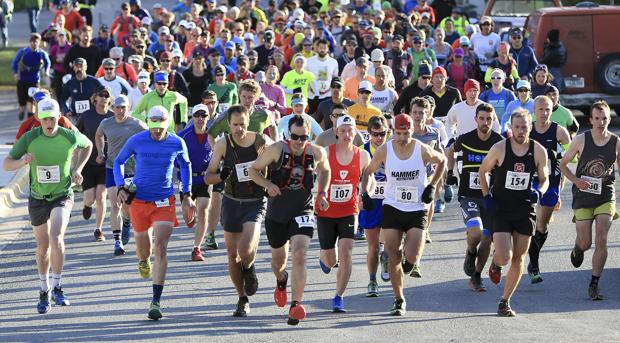 DFMI Start -

Credit: Gary Marshall, Blackfoot Media Group/Helena IR
At the races:
Trail running season is officially in full swing under the Big Sky with plenty of news about Montana runners, Montana races, and community events:
Transvulcania Ultramarathon:
The Montana performance of the weekend goes to MTC's own Kristina Pattison. She battled a stacked international field of professional mountain runners to finish sixth among the women. Great job Kristina! More on Transvulcania with Irunfar's
results recap here
. And hopefully we'll get a race report from her soon. What do you say Kristina?
Don't Fence Me In-Sabotage and Sportmanship:
DFMI 30K lived up to the hype. It was a fantastic event all around: extremely well marked, well organized, run on great trails, and put on for a great cause. The competition was also as deep as expected with plenty of athletes pushing the pace. Unfortunately, the story of the day for many of us was what appeared to be an act of intentional course sabotage that sent the lead runners downhill shortly before the ascent of Mount Helena with just a couple miles of technical trail to go before the Last Chance Gulch finish. Each of the first 9 men were misdirected. The perpetrator not only placed a tree branch across the correct route, but moved two flags in order to intentionally direct runners the wrong way. The top two runners at that point--Kempton and Reich--descended all the way to the valley floor and found their way back on roads to race HQ. Ferrier and Rome, running in 3rd and 4th places, stopped at the first unmarked junction about 500' down the hill. I came up behind them and we agreed it best to turn around and make our way back up a dozen switchbacks to retrace the ground we lost. On the way up we were quickly greeted by Wolf, Zentz, and several others in close pursuit. As we climbed came the sportsmanship. We reluctantly accepted the fact that the race was, in effect, over. After we fixed the flagging to ensure that every other runner stayed on the course, we kept our original places and ran it in together with a final finish order--places 3-9--finishing within about 10 seconds of each other. The RD credited Kempton and Reich with finishes, which is the right call in this case. Barring disaster, one or these two runners would have won the race. Why people sabotage courses is anyone's guess. But I can attest that with 2 miles left in a 30K race, you're giving it everything you've got and a lot can still happen. Facing the reality that the race--the best part of the race--has been stolen from you and you're treated to a 500' "bonus" climb is less than ideal. But regardless of how things played out in the end, I suspect that everyone went home satisfied with a great day out in the mountains. If we race trails to challenge ourselves in beautiful places, it was mission accomplished.
The women's race went off without a hitch. Maria Dalzot, who recently secured a spot on Team USA for the North American, Central American & Caribbean (NACAC) Mountain Running Championships, turned in a dominating performance, finishing 20-something minutes ahead of her nearest challenger. Missoula runners Anya Gue and Emily Kipp had strong races and filled out the podium ahead of a very talented women's field.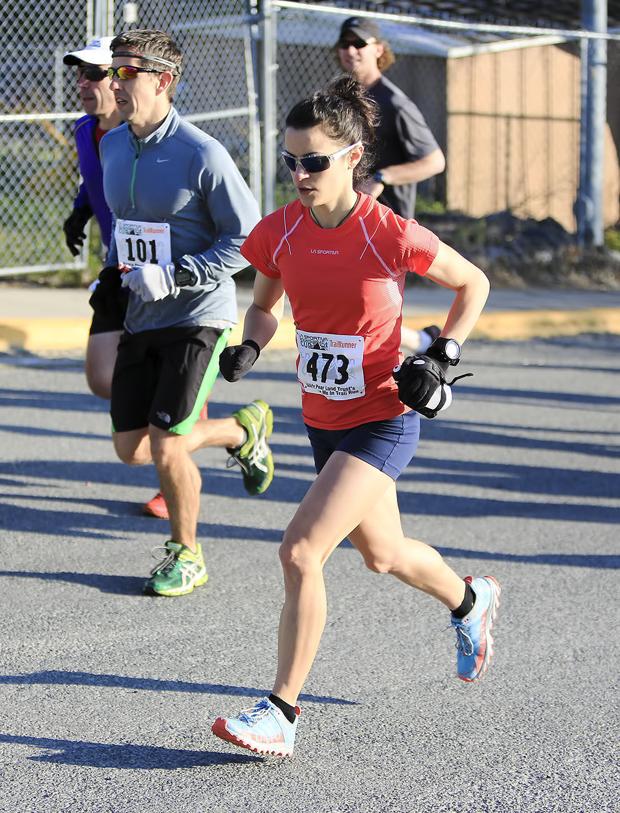 Women's Champ Maria Dalzot - Credit: Gary Marshall, Blackfoot Media Group/Helena IR
The 12K also featured solid performances. Among the women, Marilee Woyth of Great Falls broke the 1 hour barrier and took the win followed by Ashley Basten and Megan Morris. Among the men, Helena's Michael Kaiser finished a minute up on Missoula's Forrest Boughner with Shiloh Hernandez, also of Helena, in a close third. Helena Independent Record
story here
. Click here for
complete results
.
Riverbank Run--future trail star?
Yes, it's a road race but but it's worth a mention that 13 year-old Ella DeGrandpre took the win among women in the 10K in a speedy 38:17. She tells the Missoulian "I run like 12 miles when I'm training," she said. "I really like running up mountains and getting up to the top, like running Mount Sentinel."Hopefully we'll see her competing in a trail race in the near future. Get the
full story here
.
Trail Work Day:
We'll be posting some additional information about this later in the week, but we're organizing a trail work day on our adopted trail in Missoula's North Hills this coming Saturday from 9 AM - 1 PM. We hope to get a dozen volunteers to help out with this effort. If you're up for it our online sign up form is here;
https://www.volunteersignup.org/FPEW8